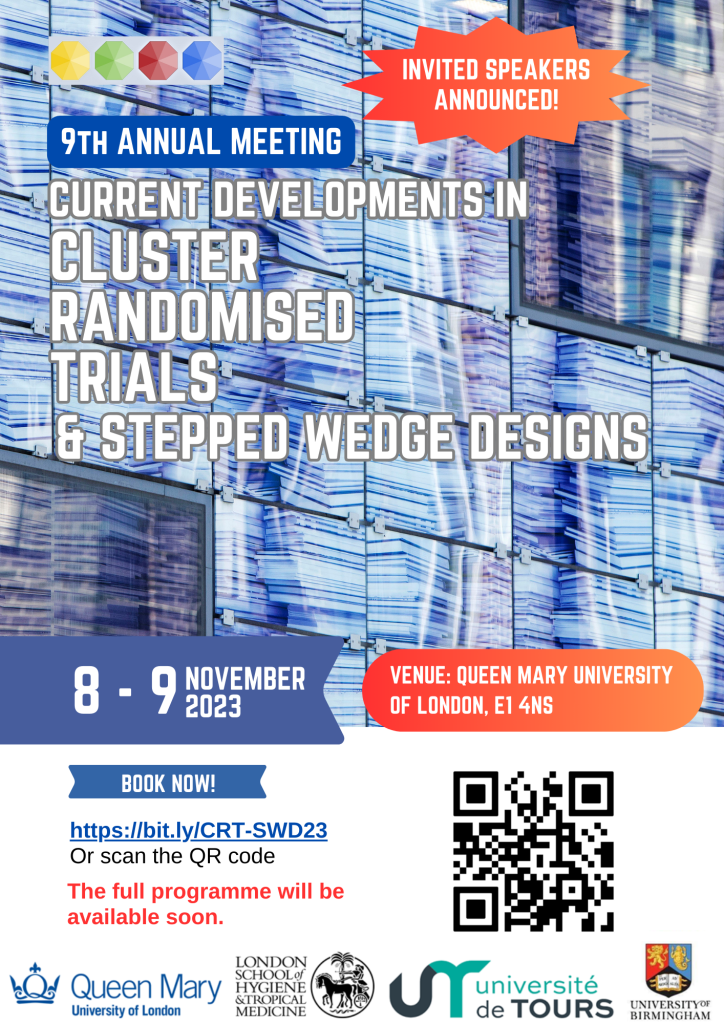 BOOK NOW! The 9th Annual Meeting on Current Developments in Cluster Randomised Trials and Stepped Wedge Designs will be taking place on Wednesday 8 and Thursday 9 November 2023. in Queen Mary, University of London, Mile End E1 4NS. The event can also be joined online. Book now via the Eventbrite page or view the full programme.
Keynote Speakers
8 November 2023 – Jessica Kasza: "The cluster is always right: designing stepped wedge and cluster randomised crossover trials with the clusters in mind"
Longitudinal cluster randomised trial designs, such as stepped wedge and cluster randomised crossover trial designs, place a large burden on the participating clusters. Typically, clusters must participate in trials for the entire trial duration, and the scheduled implementation of interventions must be adhered to strictly to ensure valid conclusions are drawn. In standard stepped wedge designs, all clusters must be trial-ready, with ethics and governance approvals and data collection procedures in place, before the trial can start in any cluster. Researchers have lamented the rigidity of these designs, and a recent review by Caille et al has shown that most stepped wedge trials have experienced recruitment and implementation challenges.
In this talk I'll describe some of my work in the development of more flexible and less burdensome stepped wedge and cluster randomised crossover trial designs. I'll describe work in batched and incomplete stepped wedge designs, staircase designs, and cluster randomised crossover designs. I'll then point towards the future of designing longitudinal cluster randomised trials: trials designed with the cluster in mind.
9 November 2023 – Christina Easter, Caroline Kristunas, Sheila Greenfield and Karla Hemming with Performing Medicine: "Researchers' views of risk of bias in cluster randomised trials: a performing arts presentation of the results of a qualitative interview study"
Cluster randomised trials (CRTs) can be a high risk of bias driven by differential identification and recruitment of participants across treatments. These risks pose a serious threat to the validity of the findings from CRTs. We present the results of semi-structured interviews undertaken with 24 investigators and statisticians involved in the conduct of CRTs.
In this interactive, forum theatre workshop, we will explore the themes identified through this research in an innovative way. Performers will play out some typical scenarios between clinicians and statisticians, investigating multiple perspectives and challenges. The audience will be invited to participate, by talking directly to the characters and offering alternative solutions, allowing for self-reflection on our ways of working.